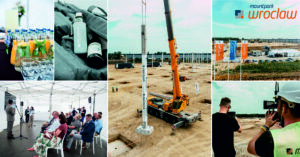 And it all starts with the cornerstone, which in this case is the pillar in the center of the building!
The tradition of laying the cornerstone dates back to antiquity and consists in installing the first "brick" at the corner of the building to begin construction.
We also remain true to tradition and together with Mountpark and many guests we celebrated the the start of construction of a modern warehouse space with a total area of 140,000 square meters.
Wrocław – get ready for the most innovative investment of this season, which we will supervise with Tomasz Mastej at the helm.