by Mariusz Witkun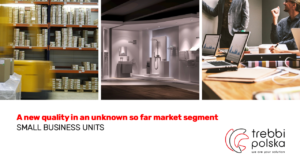 SBU (Small Business Units) is a new format on the domestic real estate market. Currently, the demand for large warehouse space exceeds what has been happening on the market so far. But there is one problem. Minimum 1,500 or 2,000 m2 of space can be rented in these facilities. And what about those who do not need such large halls for themselves? Should they develop their businesses in a garage at home? Well, no – the answer to this is a new business line – halls adapted to smaller, often family businesses. Halls starting from 250 m2 in size, with appropriate infrastructure, an office, a showroom, a place for selling goods and services.
Trebbi Polska, together with innovative Investors, is implementing a line of facilities tailored to these needs. The first flagship facility is being built near Wrocław and offers modern, well-designed warehouse space that fits all budgets, together with flexible office and exhibition space. We invite thriving family businesses, smaller service companies, trade in building elements but also any other activity to these facilities. The building is modern, it offers the same as large halls from large developers, but at the same time, due to the flexibility inherent in the design, it adapts to this niche on the market, which was ignored in modern halls for quite a long time.
The facilities are fully equipped, they offer beautiful display windows that allow companies to show their products and goods to their customers, giving a unique combination of a warehouse, office and sales area.