It started seven years ago.
(Text almost personal, but…. Company's)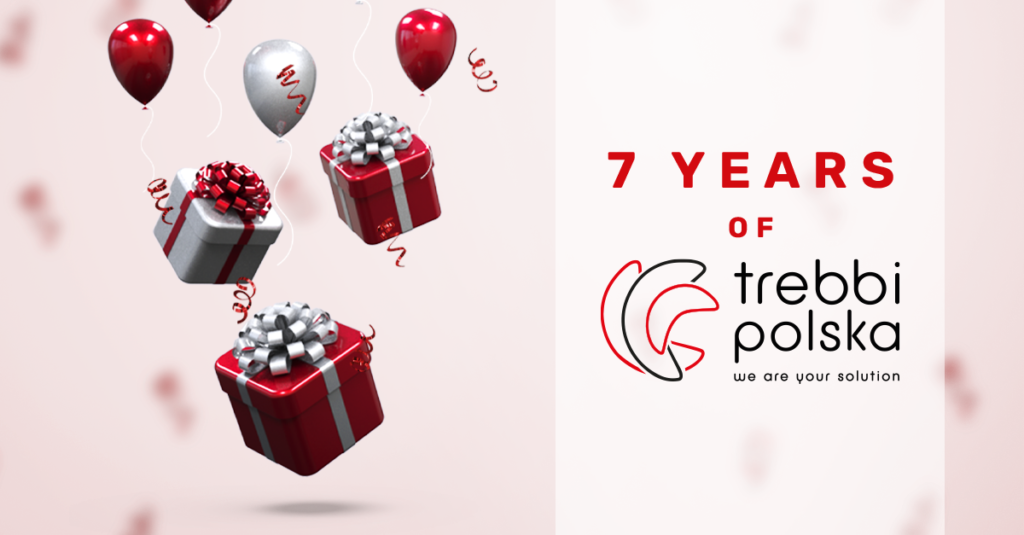 How Time passes. I don't know if you ever wonder about the passage of time? How fast it goes, especially if you are satisfied with what is happening as it passes.
As I remember today, middle of the day, Warsaw, city center, notarial deed and signing the company agreement. March 20, 2014. Seven years ago – who would have thought? The notary, our lawyer, and the three of us – Chris, Arek, and me. What happened then – you may have already guessed, Trebbi Polska is being established. A unique creation of our desires – our own company! Impossible and yet true – we create something out of nothing. At that time, we did not wonder if we would have enough to live on, it is important to get out of the closed system we were stuck in and start breathing. And create a company.
I remember that the day was not too cold, warmer than it is now, the breeze of spring was blowing our jackets – after all, for a notarial deed it was necessary to look elegant and wear suits. Our British partner – Chris Lowe – constantly commented on the beauty of Warsaw in spring and put us in a good mood. Me and Arek – attentive, maybe a little stressed – who will be the first to order our services, who will want to believe us and cooperate with us? A notarial deed is just a deed – a document, but no work, no commissions, no ups, and downs, it's just a blank document.
A lot has changed since then, we are already seven years old as Trebbi Polska. Someone will ask – why exactly this memory with such an unequal anniversary? The number seven is a number considered mystical, distinguished by rich symbolism. In many mythologies and religions of the world, it is a symbol of wholeness, complement, it symbolizes the relationship of time and space. Hence the idea to show off, present and mention right now. Because something has happened. A dream of your own business, a thriving company, a company that is becoming more and more recognizable. About the fact that now I am not worried about whether there will be orders … but about the fact that I have to think whether we will be able to serve investors, clients, or do we have enough staff to take on new challenges? A headache, but how different, how cool and interesting.
7 years ago, I did not know if we would survive the first year, or if we would not be looking for a job in a year for ourselves. I remember my late father, a construction engineer made of flesh and blood, who was always repeating to me from the moment I surprised him and, however, directed my steps to the Warsaw University of Technology and the Faculty of Civil Engineering. "You are always an engineer … but only sometimes happen you are a director." Years later, Dad, I can say that just as you were right, you were wrong too. Our seven years show that not only "happens" – how often it is in fact.
Looking throughout these 7 years of work on the real estate market in Poland, I remember different moments. I remember when you had to borrow money for employees' wages to the company to survive the lack of payments from several of our big clients – you would say that late payments are normal, but for a start-up like ours then it was to be or not to be. But then consistency and stubbornness gave us the strength to survive. At that time, we worked for several large players on the Polish market and we were not significant to them, yet we completed the projects, we got money for our services and we were able to develop further.
We started with 5 people – Chris far away in the UK, Arek in Poznań and Warsaw, and me here. Also, our assistant Magda and our first engineer – Grzegorz. Instant office in Chłodna Street, a single room for rent and great hopes. We started with two specific things – claims for a large General Contractor and a large office tower in the center of Warsaw designed for a large real estate fund. Then, looking at the sequence, the next milestone was the representation of the tenant, a large law firm, where we helped them go through a very difficult process of changing the office – not only in the technical sphere but also in terms of image and business. Thanks to this, we showed what we can do, what our work ethos is, and what is important to us in business. During this tenant representation, people on the other side of the table – Landlord, one of the largest in the real estate market in Poland – appreciated us as opponents, and, leaving the negotiating table, we immediately got a proposal for cooperation. That's how I understand it – no matter how or where, if you are a professional it will show and people will appreciate it.
Then there was a moment when it was necessary to bring the main shopping center in the capital of Greater Poland into order and composition during the end of construction, to run it for the last six months before its opening, and to positive takeovers with the Authorities. We did it at the request of a large General Contractor, internally harmonizing the Polish and foreign side of this company, leading and coordinating quite conflicted engineers around. In this regard, Arek showed once again how we work and what we are capable of. The center opened, everyone was satisfied and we were once again satisfied with the good engineering work.
However, it was not always beautiful, we have one project on which I admit that we did not do everything we could in the short time we had at our disposal. Lower Silesia, how beautiful, is also associated with the corporate theme of certain office space, next to a large shopping center, where, unfortunately, not everything turned out as we would like. Very difficult relations with the international Tenant, a difficult and nervous Client – the Landlord, two General Contractors who we had to remove from the Project … Unfortunately, although in combat conditions, after a few optimizations, we finally managed to come up with a recovery plan that guaranteed the end of the fit-out – we had to for "political" reasons to leave this ship. Well, as the English say – lesson learned. It is important that we came out of this Project strengthened, determined, and, contrary to the first view, stronger.
Then there were some important projects, bigger and smaller. We have been working on our professional image all the time, repeatedly doing technical audits, audits of plots, shopping centers, large stores, office spaces for the largest developers. In seven years, looking at the project registry, we have over 150 of them right now. And it keeps coming.
It wasn't easy at first in a pandemic – a year ago we were in completely different moods. Investments stopped, our clients started to withdraw from projects. It was bad at the beginning. But what for is the flexibility of operation – if the retail or office sector does not work, let's start supporting logistics more strongly. At the beginning of the pandemic, we helped with the take over of one of the largest warehouse developers. And from then on, thanks to the quality of work and commitment shown again, we got new orders. The fear of the first months of the pandemic affected everyone. And yet we didn't fire anyone out – on the contrary, we hired people! Additionally, I can write with a clear conscience that I am proud of the fact that we did not lower the salary of anyone using the pandemic! This shows our strength.
By the way – the first engineer at the beginning of the article (I don't know if you remember him?) – is now our partner. With hard work and commitment, Grzegorz bought out his share of Trebbi Polska. Isn't that amazing? Consistency and stubbornness in pursuing the goal give a lot. Our philosophy is to share. The knowledge, experience, joint successes, but also, as can be seen from Grzegorz's example, a company.
As I write these words, I remind myself of those seven years. What a period. I can not stand the tension, what another seven years will bring. I already know that we will surprise honorable audience in a moment with a very serious topic, which we won this year in a public tender. Despite many protests from our respectable competition. But quiet about it, let us sign the contract. And then it will be loud.
And so….
On the occasion of 7 years of Trebbi Polska's existence, I wish my partners, all employees, and their families, all acquaintances and friends, all with whom we worked and who wish us well, fruitful and wonderful next seven years. Despite the pandemic, politicians, wars, and other factors.
ALL THE BEST TREBBI POLSKA FOR ITS SEVENTH ANNIVERSARY!
Mariusz Witkun, board member